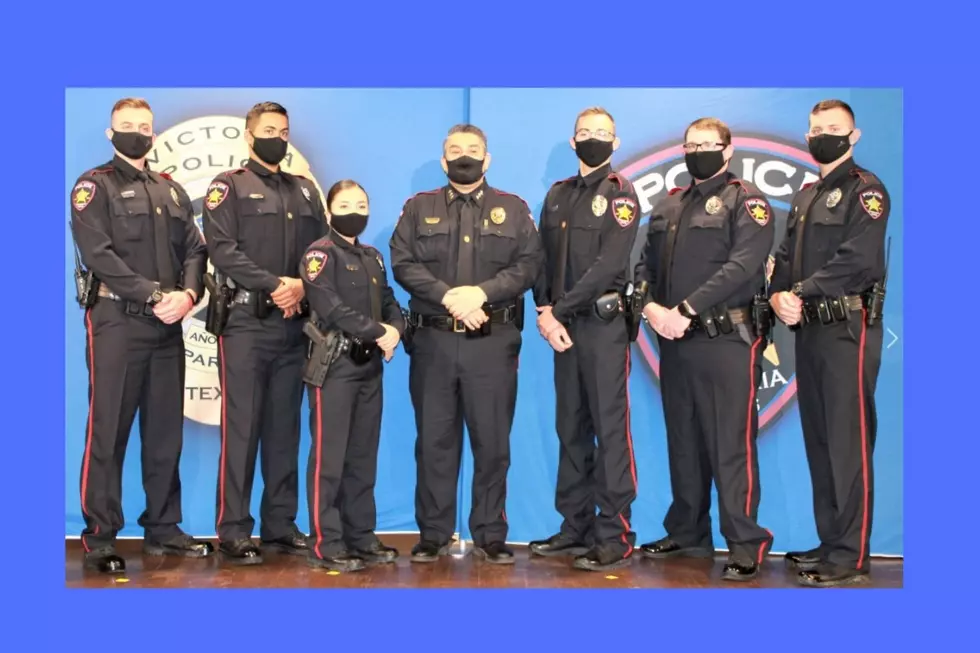 Victoria Police Department Welcomes 6 New Officers
Photo Courtesy of VPD
It was a proud moment for the family and friends of six new police officers who were sworn in Friday during the Victoria Police Department's new officer inauguration.
We welcome, Officers Z. Vela, R. Ramos, M. Gallegos, J. Swisher, T. Ballard, and T. Smith! Thank you to these six new officers who chose to serve and protect our Crossroads community and congratulations on your accomplishments! Welcome to the Victoria Police Department!
Victoria's Finest- Six New Officers
Centered in the photo group photo and alongside each individual officer photo is the new Victoria Police Chief, Chief Arredondo who you can read more about below.
A career with the Victoria Police Department will begin with an annual salary of $43,500 with the possibility of an annual step pay plan. A police officer with a minimum of three years experience at a similar size agency is eligible to receive an annual salary between $49,300 and $66,900, depending on qualifications.  The City of Victoria offers benefits such as Medical, Dental, and Vision Insurance along with paid holidays, sick leave, and vacation time.
Enter your number to get our free mobile app
Think what you have what it takes academically to become a Victoria Police Officer. A comprehensive entry exam test is available online at the VPD website here. Take the test and find out!
There are multiple job opportunities to work for the community through the City of Victoria. Interested in working for the VPD? They are currently hiring. Check those job opportunities out by clicking here.
We can't wait to see these new officers to ask them for their trading cards! Yep, all Victoria Police Officers have their own trading cards that you are welcome to ask them for you to collect! You've got to check the current gallery of trading cards here too!
We welcome the new officers and thank them for their service and willingness to protect and serve the Crossroads!
Beware of These 50 Jobs That Might Vanish in the Next 50 Years
More From NewsTalk 940 AM