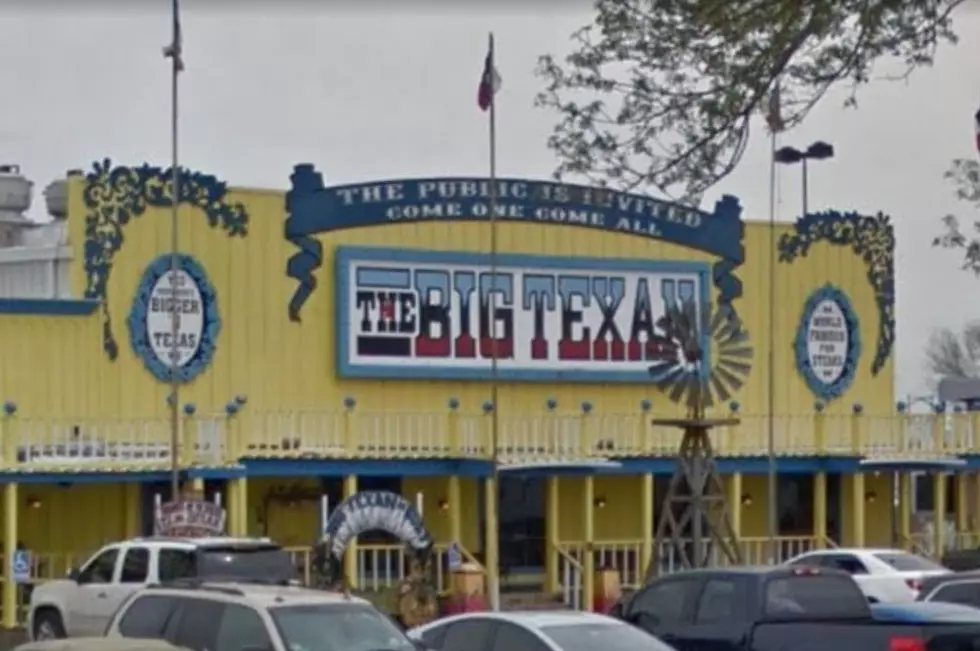 The Long History of The Big Texan and it's Sign in Amarillo
Google Maps
You drive by it all the time. When you have out-of-town guests they want to see the 72 oz steak. They all think for a minute "Hey, maybe I can eat it" then they see the size of it and think better. I am talking about The Big Texan.
You see those signs wanting you to try your fate. They have the big ol' steak but they have more than that. You know you have browsed in the gift shop and ended up with something.
What kid did not want a red or blue cowboy hat to take home after their kid's meal? Oh, and to be serenaded by the Big Texan singers. What is more Texan than that?
There is some great history behind that restaurant we have grown to know and love on I40. Oh, and that sign. You know what what I am talking about.
That smile. The Big Texan Cowboy. That sign was built back in 1960. RJ Lee is who we can thank for this welcoming face to the restaurant. It once did welcome everyone to Route 66 but when The Big Texan relocated of course this sign had to come along for the ride.
It wasn't until 1971 that the Big Texan was open and ready for business on I40. It was built way back then with the famed gift shop and those strolling singers were all waiting to greet us.
Did you know that there was a fire that destroyed most of our beloved restaurant back in 1976? That fire destroyed the gift shop, main dining room, and a lot of the artifacts from the original Big Texan on the Boulevard.  I didn't find that out until I was doing some research. RJ did rebuild back in 1978. Luckily the sign was not hurt.
Luckily the banquet hall was spared from the fire so they were able to keep the restaurant open during the rebuild.
The Big Texan has so much history. In fact, on their website, they have three chapters of history. Including the start of Starlight Ranch and how Covid affected them. Plus don't forget all the people who have tried the 72 oz steak including Adam Richman from Man vs. Food. Oh, and don't forget Molly Schuyler who I got to watch destroy three of the 72 oz. steak meals. She was a beast.
You can read the whole history of the sign and the Big Texan HERE.
Things We Would Put In Our Version of Cadillac Ranch
Ready For Some Pizza in Amarillo?
More From NewsTalk 940 AM