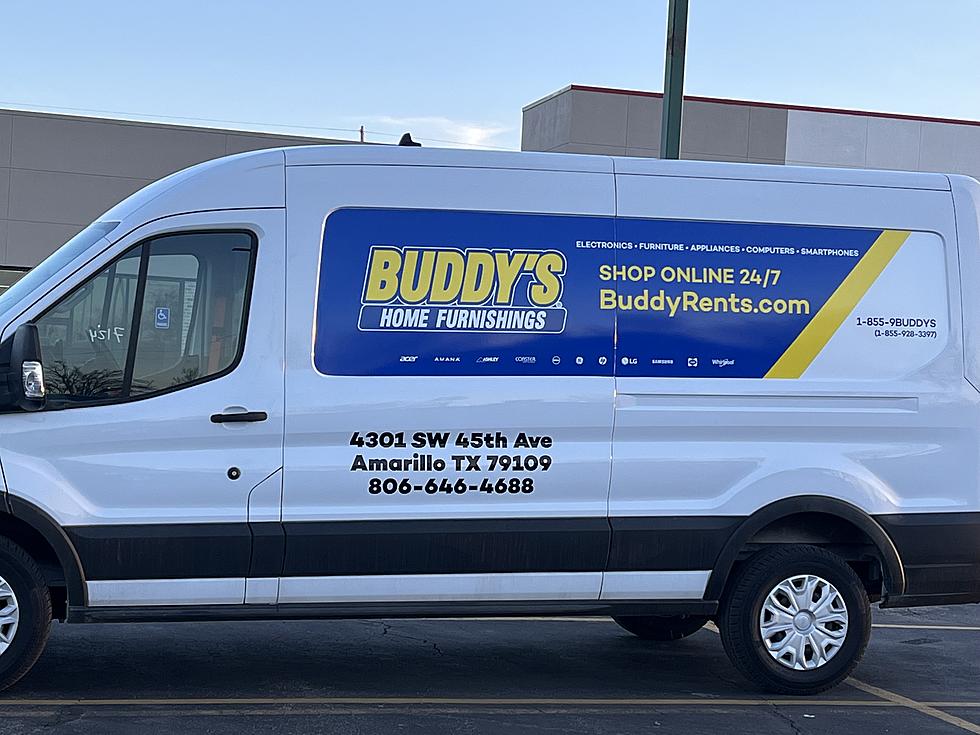 Need Home Furnishings? New Business Coming to Amarillo
Lori Crofford/TSM Amarillo
Amarillo is definitely growing and it's great to see new businesses popping up all over town.
A new home furnishing store is opening it's doors in Amarillo.
It's called Buddy's Home Furnishings.   
Buddy's is a lease to own establishment.   If you are needing furniture, appliances, etc. and don't have the funds to purchase right out, then Buddy's can help get you set up to where you can have these things for your home.
It's tough not having a washer or dryer, and constantly having to spend valuable time in a laundromat shoving quarters into a machine.  Why not spend that weekly money on appliances of your own.
Buddy's will be opening it's doors in the shopping center where Hasting's called home at 45th and Teckla.
The great thing about Buddy's is you don't need credit.  They work with you, they have lease options, 125 days same as cash, or you can purchase right out.
They also offer, Buddy's Express, where you can have new furniture or appliances in your home in less than 24-hours.   Take advantage of Buddy's Bargains, they have great deals on their pre-leased and they have monthly deals.
They also offer electronics, including TVs, computers and gaming systems, so if you've been dreaming of the new xBOX or Play Station, check out Buddy's Home Furnishings.
As of today, we don't have a set opening date, but they have their van parked out in front of their store front and posters on their windows saying opening soon.
Another great option for home furnishings if money is tight or if you don't have the best credit.
Always Prepared: Check Out These Doomsday Bunkers in Texas
I'm not the kind of guy who believes that at any moment the whole of everything is going to go up in flames. If I was, and I had an extreme amount of disposable income, I would want to spend the apocalypse in one of these insane bunkers you can get right here in the Lone Star State.
Amarillo On &;America's Most Wanted
I was surprised to find out recently that we also have a bit of a history with the show America's Most Wanted.
Digging through old news articles, I found several separate occasions where Amarillo and America's Most Wanted crossed paths. It makes me wonder if there are some that I've missed.
Amarillo Murders in 2021
With an official tally of 27 murders, the year 2021 saw the highest number of homicides in Amarillo since 1994.
Below is a closer look at the year's criminal acts that resulted in life lost.
**Note from the Editor
: The following is
not
an exhaustive list. We have compiled what you see below from news reports, official police statements, along with where the case stands in the court system. If you see any errors in reporting or fact, please email the editor directly at
sarah.clark@townsquaremedia.com
along with any supporting documents.
We wish to stress that all individuals charged are presumed innocent until proven guilty in a court of law.
***Not pictured: Edward Matthew Gamez
More From NewsTalk 940 AM