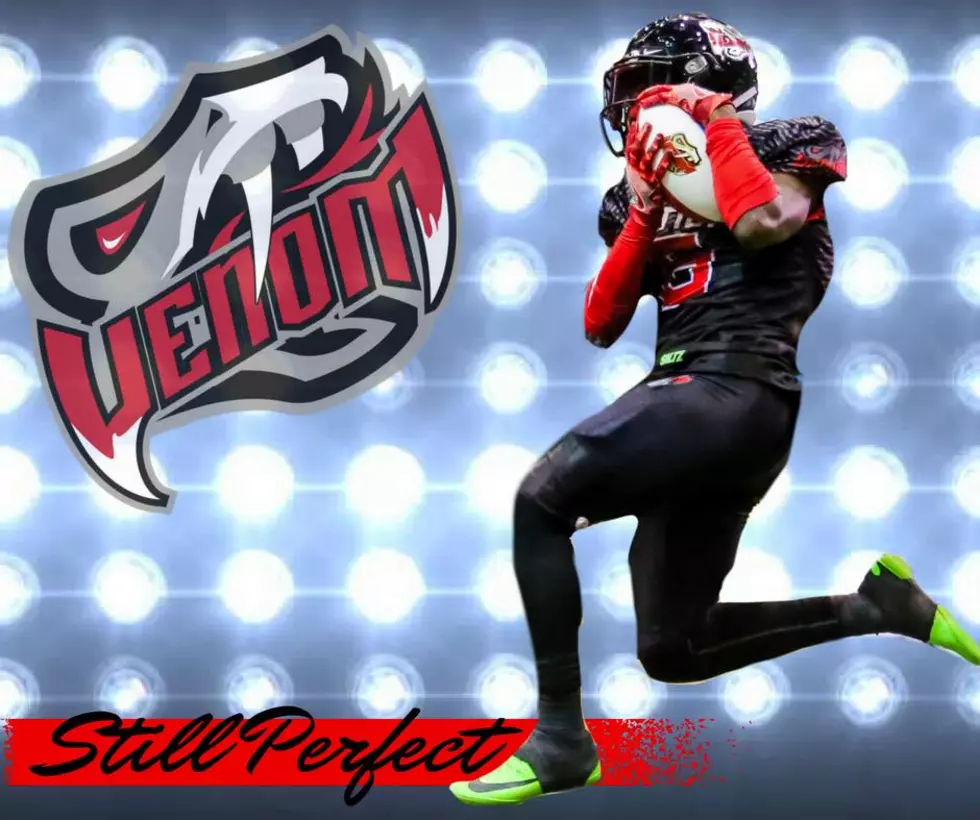 Undefeated Venom Roll to Big Win
Credit: Amarillo Venom
The Amarillo Venom improved to 6-0 on the season by blowing out the CenTex Cavalry 94-63 on Saturday at the Civic Center in the Champions Indoor Football League.
Amarillo QB Nate Davis threw for a season-high 258 yards and nine touchdowns in the win. Three of the touchdown passes were to Cedric Gilbert, who ended up with eight catches for 82 yards.
The Venom will be on the road next weekend at the Texas Revolution.
-  The West Texas A&M baseball team scored six unanswered runs on Sunday afternoon to beat Tarleton State, 6-1, and earn a four-game series split with the Texans at Wilder Park. WT dropped the opener on Friday, split a doubleheader on Saturday before taking the finale yesterday. The Buffaloes are 29-11 overall and 10-4 in conference play.
- West Texas A&M freshman catcher Maddie Green connected on a pair of homeruns and junior Kilee Halbert struck out eight as the #6 Lady Buffs softball team took the weekend Lone Star Conference series from Texas A&M-Kingville, 5-2 on Sunday afternoon at Schaeffer P ark.  The Lady Buffs are now 37-9 on the season and 21-6 in the LSC.
– Redshirt sophomore Kaitlin Rodriguez and senior Courtney Head broke their own school records at the WT Invitational on Sunday at the WTAMU Track & Field Complex.  Rodriguez broke the school record in the 800-meters for the second time in two weeks while Head became the first Lady Buff in school history to throw over 51 meters in the hammer throw.
- The Lone Star Conference Golf Championship Tournament begins today at Frisco Lakes Golf Club in Frisco, Texas. Both the WT women's and men's teams will be competing today and tomorrow.
- Regional golf tournaments are on the schedule today and tomorrow for area high school teams. The top three teams and top three individuals not on those teams will qualify for state.
- The Houston Astros rallied from an early four-run deficit to beat the Tampa Bay Rays 6-4 Sunday.
- Yu Darvish pitched eight innings in his longest outing since elbow surgery two years ago and the Texas Rangers completed a four-game sweep with a 5-2 win over the Kansas City Royals Sunday.
- The Houston Rockets beat the Oklahoma City Thunder 113-109 Sunday to take a 3-1 lead in their first-round series.
Cleveland finished off Indiana with a 106-102 win yesterday to take the series in four games.
Boston evened its series with Chicago with a 104-95 win.
Utah beat the LA Clippers 105-98 to even that series at 2-all.
More From NewsTalk 940 AM