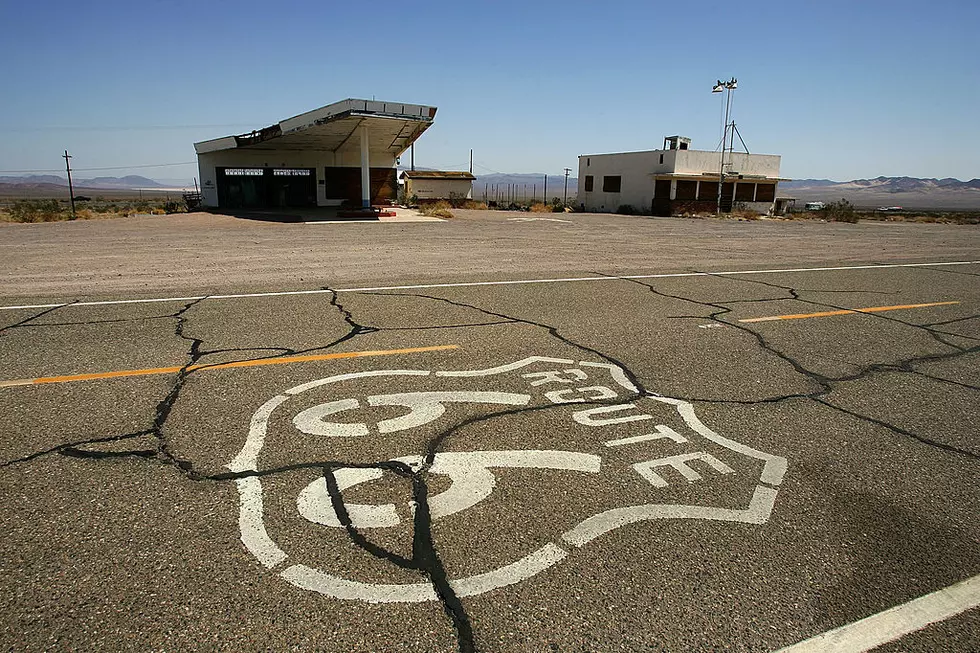 Can You Still Drive and Get Your Kicks on Route 66?
Getty Images
It seems like an interesting question. Can you drive from start to finish on Route 66? Of course, we know the song but is it still possible?
Route 66 encompasses a lot of history from Chicago Illinois all the way through Los Angeles California. There are many places to stop. There is much to see. If you started on one end and drove all the way through the other would you be able to make the drive without any interruptions?
You would think that on such a historical road the answer would be yes. You would expect that to be a possibility. You can drive some of it. You can drive a lot of it. Just don't expect to be able to drive the whole route.
You will be a tad disappointed.
Back in 1985 Route 66 was Since Route 66 decommissioned so because of that you won't be able to find it on a standard map anymore. So that makes this a little more difficult to answer.
How Much of Route 66 is Still Driveable?
You can drive about eighty-five percent of the journey. Which still is not bad. If you happen to want to do a little off-roading you can up those numbers a bit. Over the years the roads have changed.
There have been road improvements that take you off the original journey. Some roads are gone and some of the roads have been repurposed. So if you want to make the trek there are ways to visit as much of it as humanly possible.
You will just have to do your research. You would hate to start this journey and just come up to a dead end or worst still, get lost.  You can check out this option to get you on your way. 
You may have some upcoming time off and this would be the best way possible to enjoy it. Getting your kicks on Route 66. What is left of it anyway?
Look at How Amarillo's Old Route 66 Motels Looked Then & Now
The heyday of the Mother Road may be long gone, but would you believe that there's still plenty of the old motels where many a weary American family rested their heads during their interstate travels?
You won't believe some of these are still standing, much less still alive and (wait for it..) kickin'!
Amarillo's Cursed Buildings – Historic Route 66, 2813 SW 6th
There are some places around town that just can't seem to stay in business for very long. This is one of them.
The address of the cursed building is 2813 SW 6th Street. This building was originally built in 1930. This place was originally a service station. I'm sure in the heydays of Rt. 66, this place was the place to stop to get your car serviced. However, in the last 15 years, this building has seen many different faces.
Ranchotel: The Forgotten Landmark of Old Route 66 in Amarillo, Texas
The Ranchotel, located at 2501 W. 6th St., is a product of Route 66's heyday.
When Americans first began long-distance automotive travel, they typically stayed in hotels or camped beside the road. In response, clever entrepreneurs began to build what were called
tourist courts
. The Ranchotel is one of these.
It was built in 1940 and until recently, it was considered one of the best preserved examples of Route 66's tourist facilities. It was placed in the National Register of Historic Places in 1995 and was well maintained until 2020.
Even now, in spite of the building's fading beauty, there is still the nostalgic air held by many a historic landmark.
More From NewsTalk 940 AM