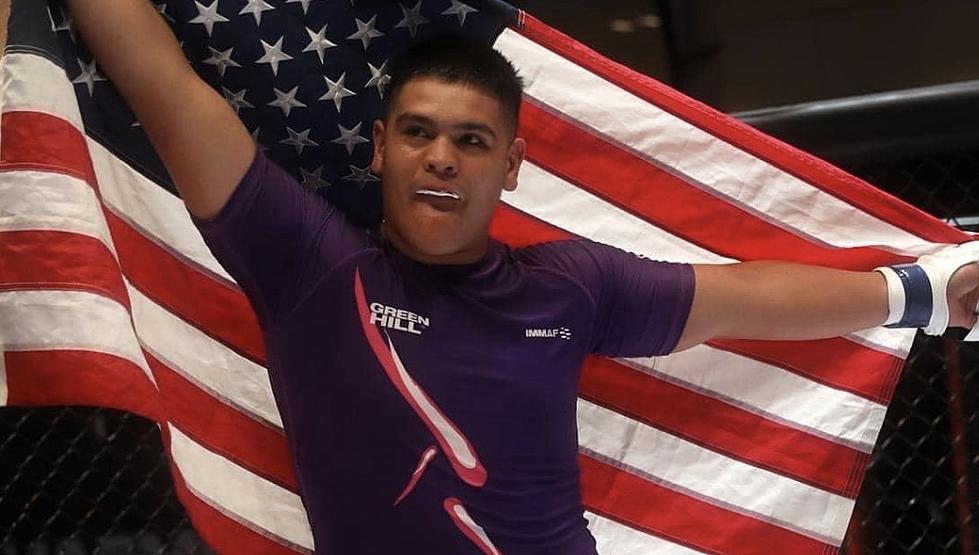 Stinnett, Texas MMA Star Bryson Barron Wins Silver on World Stage
Bryson Barron, Facebook
The small town of Stinnett was alive yesterday as it welcomed back one of its own, 17-year-old Bryson Barron who represented not just his town, but his country, on the global stage.
This young athlete recently returned victorious from the 2023 International Mixed Martial Arts Federation (IMMAF) Youth World Championships held in Abu Dhabi. Barron's performance at the championship, which took place August 1st through the 5th, earned him a silver medal.
Competing in the heavyweight 120.2 kg division, the teenager showcased his prowess in the arena, going toe-to-toe with international contenders worldwide. His dedication, discipline, and relentless training shone through, ultimately earning him a well-deserved place on the podium.
The silver medal he proudly wears is not just a symbol of his individual achievement, but a testament to the unwavering support of his community and the relentless encouragement from his coaches and mentors.
In a remarkably short span of time, Bryson has achieved an astonishing array of accomplishments in his MMA career. Merely three years ago, he took his first steps into the world of martial arts training at Black Dragon Martial Arts in Borger, under the guidance of his dedicated instructor, Josh Smith.
As the town gathered along the main street to celebrate his triumphant return, the young athlete stood as a source of inspiration for the aspiring talents of Stinnett. His achievement highlights the potential within even the smallest communities, proving that dedication and hard work can lead to success on a grand scale.
Bryson's silver medal in the IMMAF Youth World Championships is a source of immense pride for the town. The 17-year-old's journey from Stinnett to the IMMAF Youth World Championships isn't just a simple win for one person, but a win for the USA and for the local community.
Patrick Mahomes: From East Texas To NFL Stardom
25 Famous Painters, Authors, Singers, Songwriters From Tx Panhandle and Plains
25 of the biggest names who have called the panhandle and plains home at one point; from Amarillo to Lubbock, and everywhere between.
30 Actors Who Were Born in Texas
More From NewsTalk 940 AM