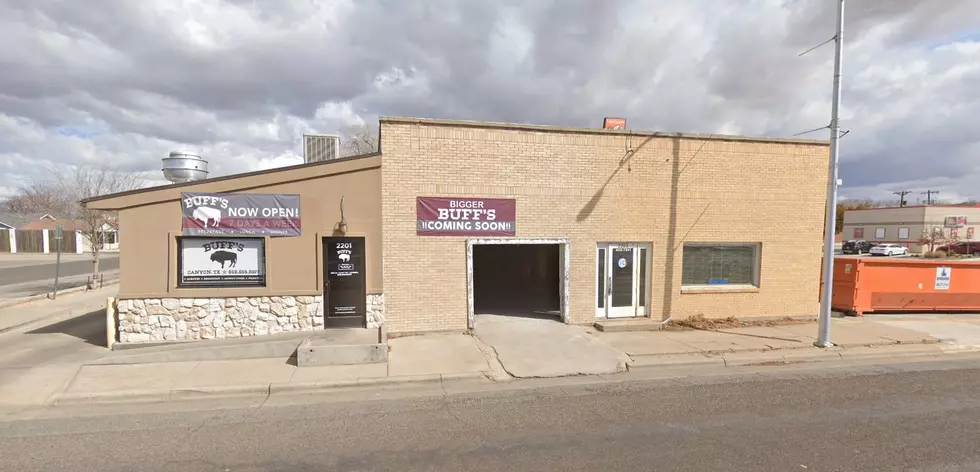 More Restaurant News In Canyon, And This Is Really Great News.
Google
It seems like any time you see news popping up about a restaurant in the area, it's bad news. We've seen a lot of businesses close their doors for good over the past few years.
This time though, there's some really great news for a local restaurant in Canyon. Buff's is getting bigger.
Buff's In Canyon Is Expanding
In a post on social media, Buff's shared the news that they are going to be growing. This is fantastic news if you're a fan of theirs.
Breakfast And Burgers At Buff's In Canyon
If you've never been to Buff's, it's definitely worth stopping in. The food is great, especially if you're a fan of burgers.
I pride myself in being a bit of a burger connoisseur, and I'm a big fan of one of theirs.
Personally, I recommend the Breakfast On A Bun. It's a solid choice any time of day. Plus, there is nothing that beats a burger with a fried egg on it.
I've tried to find something that does, and always come up empty.
Breakfast On A Bun also comes with hashbrowns on it. I never knew just how bad I needed hashbrowns on my burgers until I had this one.
All Around Great News For Buff's
I'm excited about the news. As much as I love eating at Buff's, I have to admit there are times I've mumbled under my breath that the place should be bigger.
Judging from the photos posted by Buff's to their Facebook account, it looks like it will be much bigger.
One issue brought up in the comments of their social media post was parking. Buff's responded that you can park anywhere that the curb isn't painted, or that doesn't have a sign stating otherwise.
New in 2022: All The Restaurants That Have Opened in Amarillo So Far!
We love all the new places for drinks and food! There seems to be so many that we can't keep track of it all so we've made a list and we're adding to it as we go along! Be sure to see what other new places have been featured when you can
Amarillo's Restaurant Closings in 2022
We hated to see these places go!
More From NewsTalk 940 AM