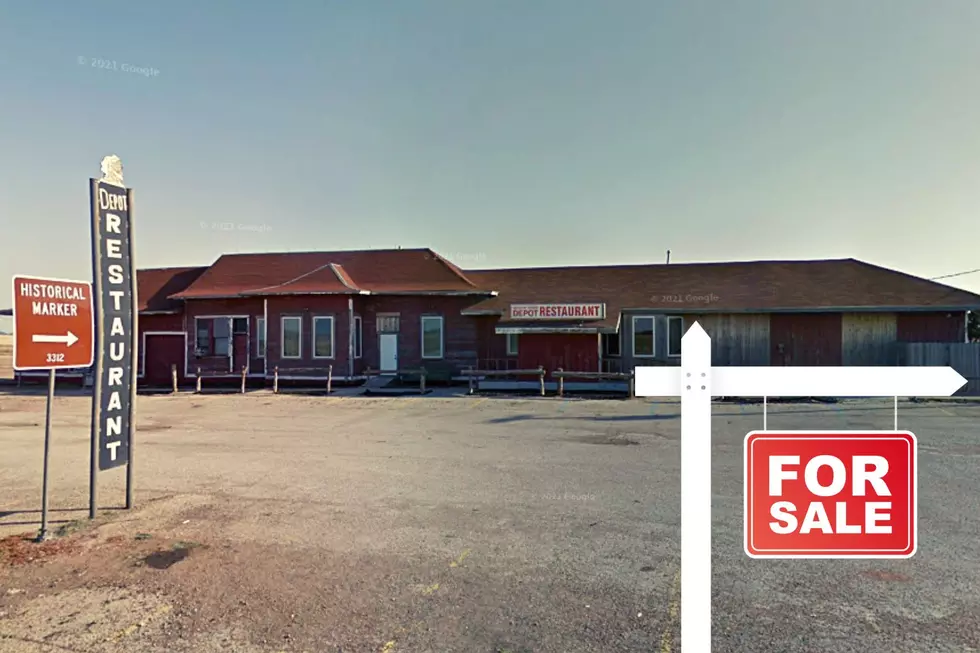 Popular Medicine Mound Depot Restaurant in Quanah is For Sale
Google Maps
Most of us in the Texas Panhandle have been to Quanah Texas when traveling 287 to other parts of the state like DFW.
On this particular route is a restaurant in Quanah that you have probably driven by or eaten at multiple times.   It's a quirky throwback restaurant.  The Medicine Mound Depot Restaurant.
The bad news is, unfortunately, the restaurant is no longer open. The good news is it could be open again and you could own this fun, restaurant.
The Medicine Mound Depot Restaurant was the actual Medicine Mound Train Depot.  According to the stolen historical marker that used to hang on the outside of the restaurant, it was built by Kansas City, Mexico, and Orient Railway.  It was a passenger and freight station.  The depot later became a Santa Fe Station.  In the old days, many holdups and shootings happened at the Depot.  So much it has bullet holes in the facade.  The depot survived a fire in 1935, that burned the entire town.  The depot was finally retired in 1959 and moved to its current site on Hwy 287.   The Medicine Mound Depot received its historical maker in 1964 from the Texas Historical Commission.
Now that you know the history, the depot was later turned into a restaurant.  It served up some really great down-home cooking.  However, the Medicine Mound Depot Restaurant is now closed and up for sale.
This doesn't mean history must end.  It just means that it is now a new adventure for someone else or it could remain a restaurant.  According to a Facebook post on the Medicine Mound Depot Restaurant page:
Turn key business for sale on Highway 287, There are several things this property could be other than a restaurant, in fact, it could be at least three separate businesses pretty easily!!! We are asking a fair price of $175,000 that's with all the equipment, building, recipes, and land (roughly 2.5 acres). The owners are not interested in renting or owner financing.
Just think of the possibilities!  It's on a highly traveled highway.   People love to stop for touristy adventures.  This place could be a restaurant, a gift shop, and more.  I personally love to stop during road trips at touristy places, (shout out to Clines Corner and Russell's Truck Center or Buccee's even though it's an awesome giant convenience store.).  I would certainly make this a stop on all my trips to Dallas.
Who is ready to jump into a new adventure?  It is extremely affordable as well, $175,000 for all that history.
Medicine Mound Depot Restaurant
The Medicine Mound Depot Restaurant is for sale. The restaurant is located in Quanah, Texas on Highway 287
The asking price is $175,000 which includes the equipment, building, recipes, and land (roughly 2.5 acres).
This historically acknowledged property can be yours!
EXPLORE: A Rare Look Inside the Old Santa Fe Depot in Downtown Amarillo
The old Santa Fe depot is one of the oldest buildings in Amarillo. Located at 401 S. Grant, the historic depot has sat empty for several decades. The depot is in remarkably good condition for such a long stretch of vacancy, and the City of Amarillo has plans to bring the station back to life.
In the meantime....enjoy this rare look behind the locked doors of the old Santa Fe depot.
Russell's Travel Center
Russell's Travel Center is a hidden gem on I-40 W just past the Texas/New Mexico State Line.
Exit 369
This travel center has a classic car museum inside as well as a quaint little chapel.
Hungry? It also has an awesome diner that you need to try.
Vega, Texas
More From NewsTalk 940 AM