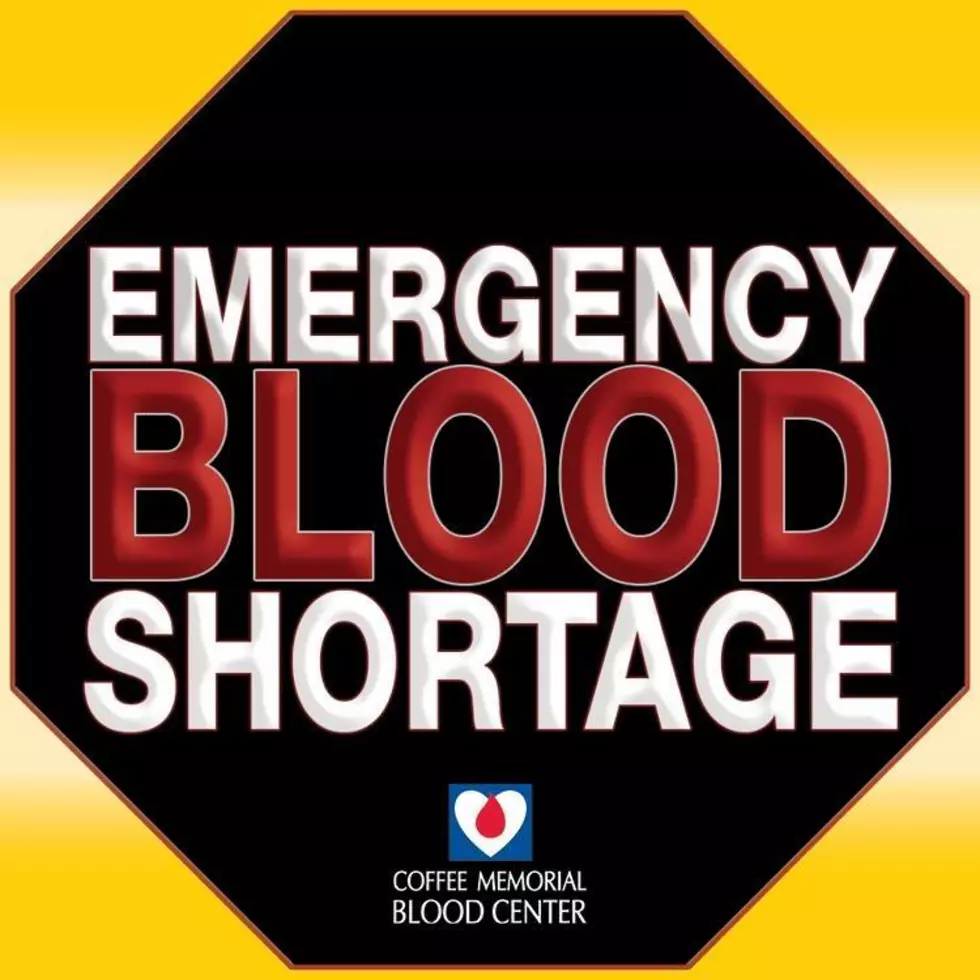 Coffee Memorial Says That Blood Is Desperately Needed In Our Area
Credit: Coffee Memorial Facebook
Coffee Memorial Blood Center desperately needs your help. 2019 is off to a rough start, and it has had a tremendous impact on the supply level at Coffee Memorial.
According to a press release, Coffee Memorial usually has a three-to-five-day supply on hand for local hospitals. Those levels have dwindled to less than one day.
The press release cites weather, blood drive cancellations, and the flu outbreak we've experienced as some of the reasons why maintaining their supply has proven difficult.
"Because close to a quarter of our blood collections comes from school blood drives, going to schools and collecting 25%-50% less than we usually due to illness can be devastating to our inventory.  With Spring Break upon us, our schools and universities will be out again, and many people will be leaving the area for vacation. So, it is imperative to replenish the supply right away," said John Armitage, M.D., president and CEO of Coffee Memorial Blood Center.  "We are calling on all healthy adults to take about an hour of their time to give blood for our friends and neighbors in need."
Coffee Memorial is encouraging all healthy adults that are age 16 and older to donate as soon as possible. You can make an appointment to give blood by calling 806-331-8833. You can also visit yourbloodinstitute.org for a list of mobile blood drives.
You can also visit the donor center 7 days a week on Wallace Boulevard.
The press release went on to explain just how dire the need is:
Every two seconds, someone needs blood.  One donation saves up to three lives.  Volunteer donors with Coffee Memorial Blood Center exclusively provide every drop of blood needed for patients in 29 hospitals and medical facilities in the entire High Plains region, which is made up of 31 counties in the Texas and Oklahoma Panhandles.  These patients rely on blood to survive an emergency injury or illness, or for ongoing treatment for cancer and other life-threatening diseases and conditions.
More From NewsTalk 940 AM