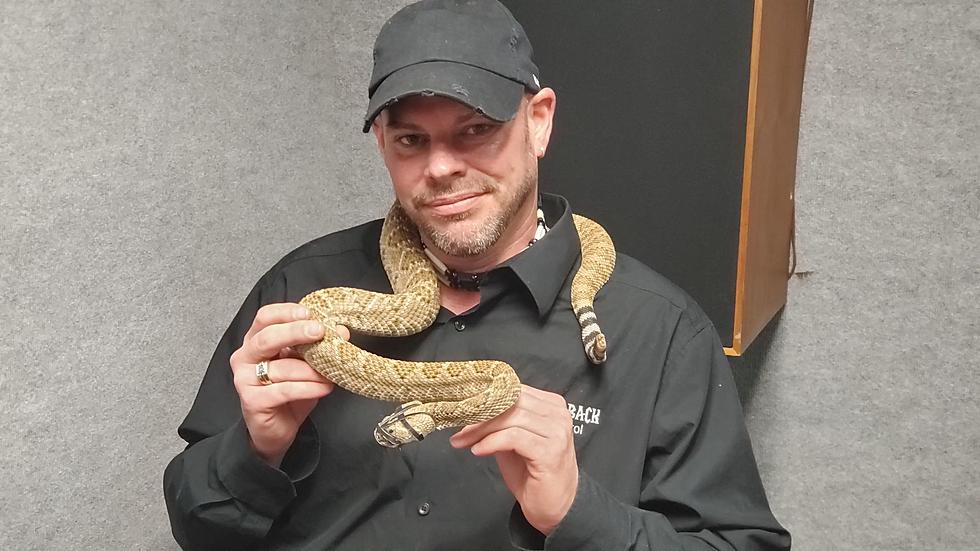 Checking In With Our Rattlesnake Guy On What To Do This Season
Charlie Hardin
I met up with Dallas, or Diamondback as he is also known by. Diamondback stopped by to talk about rattlesnakes as we get ready for warmer weather (once this week's snow has passed us by).
I got to get up close and personal with Diamondback's rattlesnakes, bust some snake myths, and learn how to keep my family and pets safe.
The most important bits of info for you to take away are how you can "rattlesnake proof" your home and yard, and what you should do if you come across one.
If you see one, stay calm. Slowly walk away. When it comes to your house and yard, get rid of the clutter and keep the grass mowed down. That's the best thing you can do.
He also described the unique dog training that he offers. He trains dogs to recognize, and stay away from, rattlesnakes.
He described how most dogs are just insanely curious, so when they see a "nope rope" they're going to check it out. Obviously, this can result in tragedy when the dog gets bit by the snake.
It was a wild experience. I won't lie, even though the snakes are in their snake-friendly muzzles I was nervous. Being stared down by a rattlesnake is unnerving no matter how safe the environment is.
My wife cringes when I call her and say, "Honey, I did a thing at work today." Usually that means I did something a little out of the ordinary and there's a potential "what were you thinking" headed my way.
Yesterday was one of those days.
KEEP LOOKING: See What 50 of America's Most 'Pupular' Dog Breeds Look Like as Puppies
Say You're From Amarillo Without Saying You're From Amarillo
Amarillo is a pretty quirky place. We've got the Big Texan, the weird signs, and (obviously) the famed Cadillac Ranch. But more than that, there's a distinct culture of close-knit community, eccentrics, a thriving arts scene, and much more.
The point is, living in Amarillo is a unique experience. Because of that, it's really pretty easy to tell who's a native or a long-time resident. And I can prove it.
Here's a couple of ways you can say you're from Amarillo.....without saying you're from Amarillo.
More From NewsTalk 940 AM