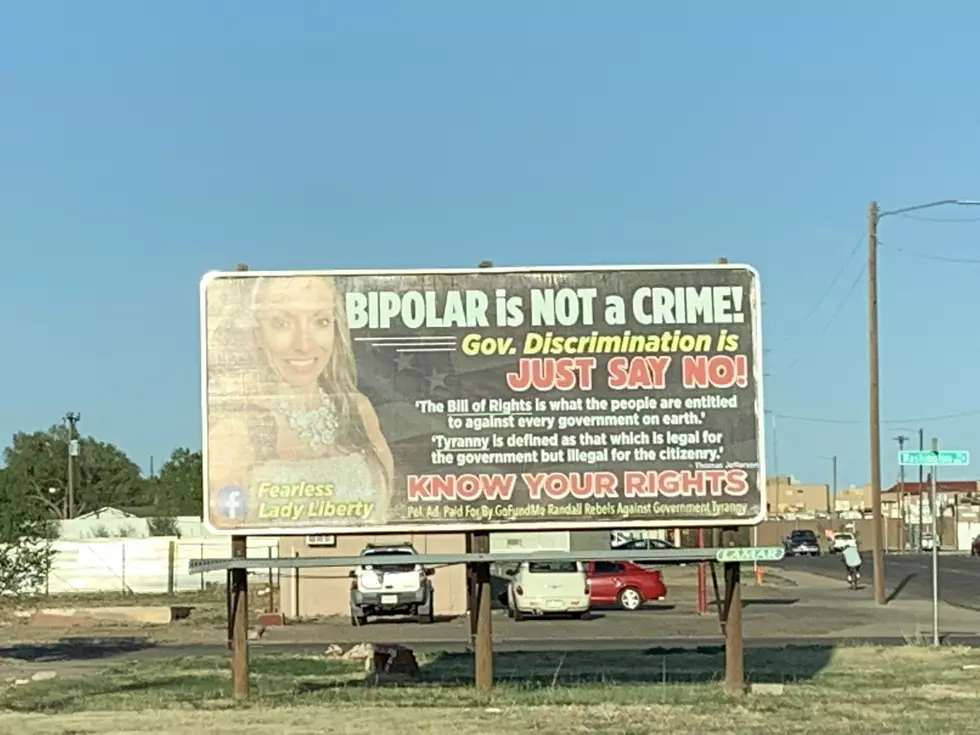 "Bipolar Is Not A Crime" Billboard? The Sad Story Behind It.
Reddit
Maybe you've seen it and it's confused you mightily.
"Bipolar is NOT a CRIME!" it reads.
As I was out and about this weekend, I saw it again and it made me wonder. What provoked someone to put this billboard up?
What happened to this person, named "Fearless Lady Liberty" to put this out there for everyone to be seen?
I decided to start doing some homework, and it turns out I'm not the only one who was curious about it. Someone had posted the billboard on Reddit asking what it was all about. The story behind it turns out to be an extremely sad one.
The woman's real name is Rebecca Blakeney. She was a veteran and was suffering from mental illness. According to a Reddit user, she was given a clean bill of health by someone at the VA and sent on her way.
After that happened, she started up a GoFundMe page and founded the 'Randall Rebels Against Government Tyranny/Discrimination' group. She put up a couple of billboards around town to bring awareness to what she felt was government discrimination against people with mental illness.
She had been given multiple different diagnoses until she was finally given a bipolar diagnosis and put on the proper medication. During this time, she lost her kids, was put in psych wards among other things. She details her journey in the GoFundMe that she started up.
This story unfortunately didn't end up having a happy ending. On January 30, 2022, a woman was found dead inside a motel room in Monterey, California. That woman was identified as Rebecca Blakeney of Amarillo, the same woman who had put up the billboards.
On February 10, 2022, the coroner determined the cause of death was suicide. Rebecca had lost her battle.
That one billboard remains in Amarillo, and now every time I see it, I'll say a little prayer for Ms. Blakeney and her family.

12 Photos of Amarillo From the Columbia Space Shuttle
You'll have to squint....but you'll see a few things you'll recognize! Get ready to get a kick out of Amarillo as seen from beyond just a bird's eye point of view!
Amarillo Landmarks: Negative Yelp Reviews
Yelp can be a strange and angry place. That's what I found out recently when I decided to sort the reviews by "lowest rating" first.
I was okay with the people upset over bad service and what not. But I came across a few reviews that, for lack of a better word, left me speechless in their scathing negative reviews on some of Amarillo's most iconic places. Prepare your self for plenty of head shaking and "I dunno" shrugs.
More From NewsTalk 940 AM