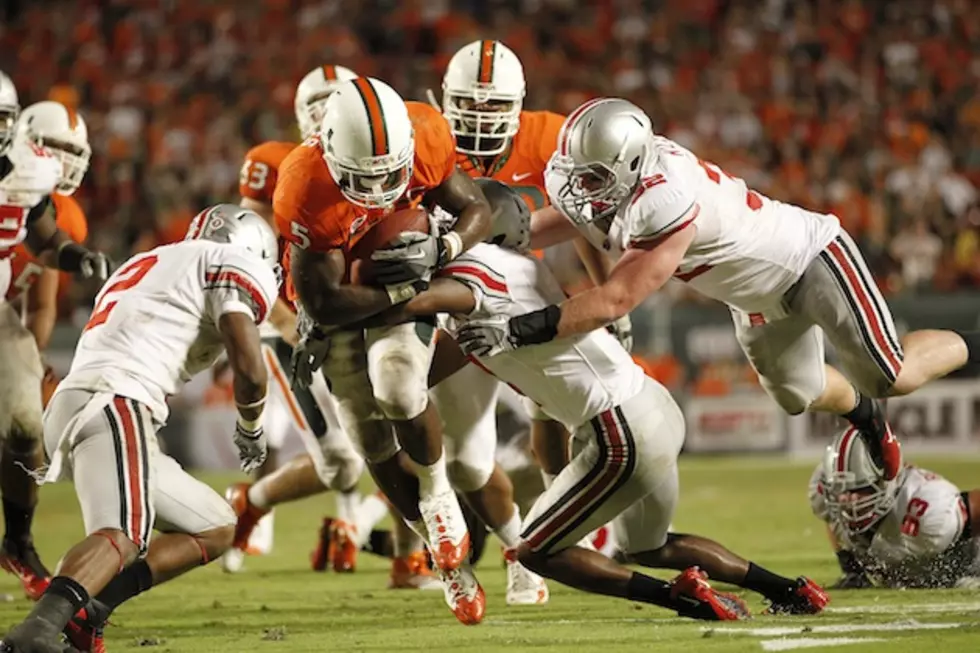 'Up to Speed' with Mike James — Miami Hurricanes' RB Used To Idolize A Florida State Seminole [INTERVIEW]
Joel Auerbach, Getty Images
Mike James was known for his work ethic, determination and mega-watt smile during his four years at the University of Miami. James started all 12 games at running back for the Hurricanes during his senior season, when he rushed for a career-best 621 yards and six touchdowns on 147 attempts. Since graduating in December 2012, the Community Service Man of the Year and Jack Harding Team MVP-winner has spent his time training and working as hard as possible to improve his stock for next week's 2013 NFL Draft.
James is also already looking ahead to life after football with a marketing internship with the NFL's Miami Dolphins. The 5'11, 222-pound running back works hard both on and off the field not just for his own sake, but for the memory of his mother, Elgusta James, who encouraged him to play football and get involved in sports as a young boy. Elgusta passed away in a car accident in 2010, an event which James used to motivate him even more to succeed.
In preparation for next week's NFL Draft, we get "Up to Speed" with the Miami running back; he's been rated as 28th out of 176 running backs.
What famous woman do you hope is watching you play?
Alicia Keys or Paula Patton. I'll have to go with Paula Patton.
What's the first thing you'll buy if/when you sign your first pro contract?
The first thing I'm going to do is get life insurance for myself and for my son. So, if anything happens to me, he'll be ok. He comes first.
What's your guilty pleasure song on your iPod?
What's something you can do in practice but could never do in a game?
I can throw the football up in the air and catch it behind my back, but I could never do that in a game.
What's the position you'd never play?
Kicker. I could never play kicker, it's just not my thing.
Will you collect your own memorabilia?
Yeah, I will because I want my son to have it.
What's your dream car?
My dream car is a rose gold Ferrari, but I don't think I'm going to go buy it. I would buy it, if I had like crazy amounts of money.
What was your favorite poster on your wall as a kid?
My favorite poster was Deion Sanders standing on top of the globe and it said, 'Water covers 70 percent of the earth and I cover the rest.'
More From NewsTalk 940 AM